Studio 3 Dance Academy was established in 2022, with the help of three minds that all had one common goal. A dance mom, an instructor, and a loving businessman asked, "How can we create a space that people are truly happy to be in? A place for dancers to perform, grow, and have fun. A place to call home."
Three caring, dance minded patrons laid out blueprints for a new way of developing dancers. A perfect mix of dance excellence, a caring community, and a foundation of what is right and just. This blueprint was carefully designed with one question in mind, "How can we best serve young dancers?"
The nuts and bolts of this blueprint are held together by our three owners and support staff. Most of our teachers have obtained their degree in Dance from prestigious universities. Studio 3 Dance Academy dancers thrive in true and noble training. Our teachers provide step by step execution of mature techniques, to proper mental training, preparing dancers to perform with a smile on their face and a judgment-free posture to do their best.
Mackenzie, the now Artistic Director has always dreamed of the performance life. Having studied dance for many years and completing her dance degree at Point Park, her professional career has led her to the beautiful Ozark's to work at Silver Dollar City. After Covid hit, she realized her passion for performing had to be put on hold and teaching became a new love she never knew she had. She has always loved kids, and creating an environment where they feel loved and safe has always been her main goal. This is where she met the Parmele's and they instantly hit it off. Diana's love for kids and having three of her own, made the decision easy for all of us to collaborate and put our knowledge, passion, and business minds together to create the perfect space.
Diana, the now Director of Customer Relations wears many hats at the studio. As a mother of three competitive dancers she has been able to communicate with patrons of many different dance studios throughout several states, and realized that there was a desire for a new type of place to learn to dance. A place that was staffed with qualified instructors that had a passion for children and want to train them up to be the best person and dancer they can. Diana's desire to join the dance industry started with a love for costuming her daughters. She opened Time To Shine Dancewear and felt that there was so much more that she could do to help change the way children were trained.
As a parent Diana has watched parents allow their children to go through things without speaking up because they do not want to cause any backlash. Diana recognized this as a need for a different structure model to be developed. One that would be similar to a school, where there is a person that can connect with the parents and address their concerns without there being negative repercussions to the dancer. This with a staff that is hired for their positivity and ability to make training fun will make every aspect of Studio 3 Dance Academy a new fun place to dance.
Check Us Out In 417 Magazine!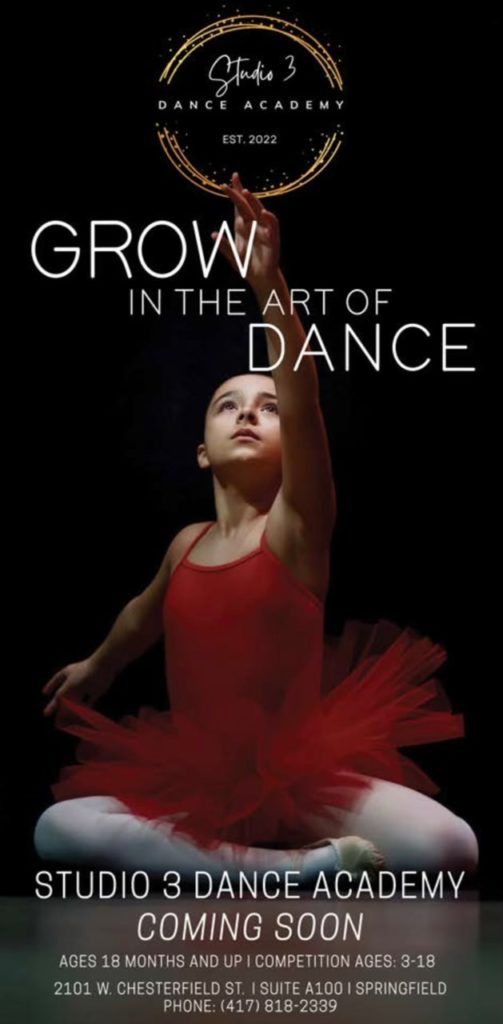 Here at Studio 3 Dance Academy, we will continually and consistently strive to inspire our dance instructors to reflect God's grace by creating an environment for each and every dancer to feel and give expression to their inner beauty, love and joy. Studio 3 will also be a community for each dancer where they feel valued, accepted and supported by their fellow team of dancers, and to have fun. Finally, Studio 3 will be a place where dancers have the opportunity to build up their confidence and be challenged to reach for the stars through learning and refining dance technique and expression. Our Studio 3 community invites parents and supporters of our dancers to enthusiastically cheer, encourage and celebrate all of our dancers in our space. We invite you and your dancer to help us build the ideal place to be, and to come dance with us!